The materials of yoga mats are generally divided into TPE foam, PVC foam and rubber mats. Among the mats of these materials, the yoga mat custom manufacturer recommends yoga mats made of TPE to you, because TPE itself is a material with high elasticity, high strength, high resilience of rubber, and the characteristics of injection molding. . TPE material itself has the characteristics of degradability, environmental protection and safety, wide range of hardness, soft touch, weather resistance, fatigue resistance and temperature resistance, and can be recycled. So let's talk about the anti-slip performance and resilience of the yoga mat below.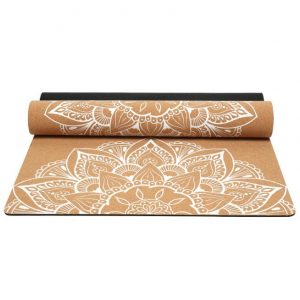 Anti-slip: The anti-slip of the yoga mat is very important. The anti-slip includes not only our contact with the yoga mat, but also the anti-slip between the yoga mat and the ground, which is what everyone calls the grip effect. Generally, yoga mats made of natural materials (natural rubber, linen, cork) have better anti-slip performance, but in fact, the difference in anti-slip performance between yoga mats of different materials is not very large. In addition to the material of the yoga mat, the slip resistance is related to many factors: such as the texture of the yoga mat, temperature, humidity, ground environment, and the practitioner's own factors.
Resilience performance: Generally, the resilience of natural rubber and TPE yoga mats are very good, but the resilience of PVC will be much worse. Yoga mats made of linen and cork also depend on the resilience of other materials that blend with them. Generally, the resilience is very good. Friends who are not familiar with yoga mats may not consider this factor when they first buy yoga mats. In fact, resilience is a very important factor to measure the comfort of a yoga mat. Good resilience will bring us a very comfortable experience.