Compared with PVC yoga mats, TPE yoga mats have insurmountable advantages.
(1) Non-toxic, no PVC, no metal elements, no irritating taste.
(2) Natural oxidative cracking can be recycled to avoid environmental pollution.
(3) It is soft, flat, and flat, so that the entire mat can hold and hold the ground.
(4) Lightweight, each cushion weighs about 1200 grams, which is about 300 grams lighter than PVC foam cushions, making it easy to carry and store;
(5) Waterproof and non-slip, even if the soles of feet and hands are sweaty, doing yoga exercises on them, the anti-slip effect is still excellent. Beautiful anti-slip particles are made on the front and back sides, and the anti-slip effect is better.
(6) Good elasticity and strong resilience. Although the thickness is 4-6mm, the resilience is strong. Doing yoga on it will feel soft, very comfortable, and not thin at all. It won't harden over time.
(7) Two colors, front and back, increase aesthetics.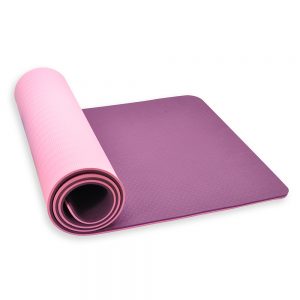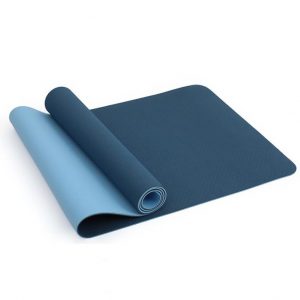 To ensure hygiene, it is best to clean the yoga mat every other week. The easiest way to clean it is to mix two drops of detergent with four bowls of water, spray it on the yoga mat, and then wipe it with a dry cloth. If the yoga mat is already very dirty, you can also use a cloth dipped in detergent to gently wipe the yoga mat, then rinse it with clean water, and then roll up the yoga mat with a dry towel to absorb the excess water. Finally, dry the yoga mat.
If the mat is very dirty, fill the bathtub with cold water and add washing powder. The less detergent, the better, because any residue will make the yoga mat slippery in the future. Then wipe the mat with a damp cloth and rinse it clean. Roll up the yoga mat with a large dry towel to absorb excess water. Let go to dry.
It should be noted that the amount of washing powder should be as small as possible, because once the washing powder remains on the yoga mat, the yoga mat may become slippery. In addition, when drying the yoga mat, remember not to expose it to the sun.