PVC foamed mat yoga mats are widely available, cheaper in price, diverse in colors, low in production cost, simple in craftsmanship, easy to manufacture and mark according to customer requirements, and are deeply loved by the public. The disadvantage is that plastic products are not easy to decompose naturally and pollute the earth.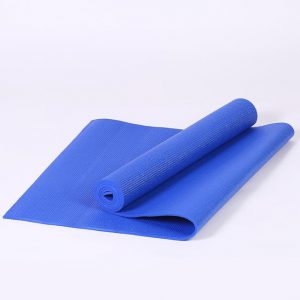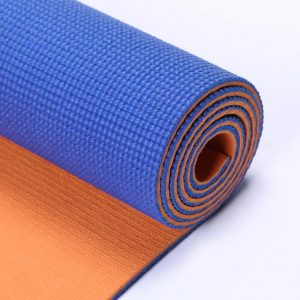 Yoga mats made of PVC foam material are currently the most common yoga mat material. The chemical name of PVC is polyvinyl chloride, which is commonly used in the manufacture of daily necessities such as bags and wires. PVC material has no special chemical smell, even if it does, it is similar to the smell of rubber. The PVC foam material itself is harmless to the human body, but the harmful thing is the material manufactured with secondary materials (recycled materials). The yoga mat made of PVC foam material is very elastic and non-slip. It is very flat on the ground, and the price is moderate, so it is very popular in the market. 80% of yoga mats are now made of PVC foam.
Nowadays, many friends may also see 1 very cheap PVC foam yoga mats on sale, which will only appear under three conditions:
(1) Using PVC secondary materials for foaming and remanufacturing, its cost is reduced.
(2) Cut corners or mix with other additives to reduce the amount of PVC material used, thereby reducing costs. The weight of this kind of mat is often different from the conventional one. Adding more foam will make the taste heavy. The mat is too light and too heavy will affect the use. Yoga mats should be selected suitable for carrying. The material for making the mats tends to be lighter. .
(3) Indoor anti-skid mats or low-grade camping mats made of PVC foam material are used as yoga mats. Such mats are often not uniform in specifications. Of course, the low-priced PVC foam yoga mats are not necessarily defective products. It may be that the merchants have different purchase channels, which saves the cost of intermediate links and lowers the price of the mats, or the merchants want to open them. The market, the sale of profit to increase sales volume. Therefore, friends who choose PVC foam cushions should prevent the fake products of the above three situations.