Yoga mats are yoga supplies for yoga practice. Spread the mat flat on the ground to prevent bruising of the spine, ankles, hip bones, knee joints and other parts. The rubber yoga mat made by Hengfeng is non-toxic, tasteless and elastic. It is a good companion when practicing yoga, so suitable What are the introductory yoga movements for beginners to practice on the yoga mat?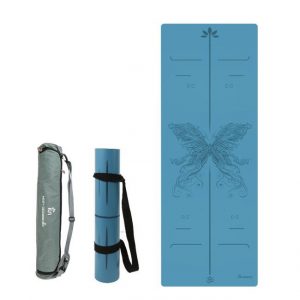 1. Nebula pose: Lie flat on the yoga mat, place your hands on both sides of your body, a little distance from your body, palms up, waist and shoulders as close to the ground as possible, stretch your legs forward, and naturally extend your toes. Then close your eyes and relax your breath.
2. Supporting style: forward your body weight, bend your elbows, clamp your elbows inside, and then push your heels back.
3. Mountain Pose: Open your feet for about one leg length, pay attention that your feet are parallel to each other, then put your hands on your hips and exhale, fold down from the hips, touch the ground with your fingertips, bend your elbows, and touch the top of your head. , Put your hands between your legs, feet, hands, and head in a straight line.
4. Toe angle pose: bend the left knee, hold the left foot and pull it toward the groin, then bend the right knee, hold the left foot and pull it toward the groin, with the palms of the feet facing each other, then hold the toes with both hands, press down the sitting bones, and press down the knees Keep your spine upright.
5. Swan pose: Take a step forward with your right leg, bend your knees, place the outside of your leg on the ground between your hands, and then push your upper body upright.
6. Twisting pose: bend your right knee, place your right foot on the outside of your left knee, inhale, raise your arms horizontally, and then exhale, twist your body to the right, place your left elbow on top of your right knee, and place your right palm Behind the hips.
Many yoga movements can be practiced on the yoga mat, and basic yoga movements can be used to exercise your body well. For beginners, there is no need to blindly pursue difficult asanas. Simple asanas are repeated, and repeated asanas are done in depth, with diligence in the day and night. Asanas are secondary. The focus is to focus on breathing and body sensations to wake up the sleeping body.