Yoga blankets are different from everyday blankets. They need to be made of solid fabrics and a reasonable and moderate thickness. A blanket that is too thick is not easy to fold to any height during use. The yoga blanket selected should be of moderate hardness, strong support, and Provide enough support for asanas, and too soft blankets are not suitable as an aid and support for movements, and cannot help us complete asanas. The yoga blanket can be used as a bedding. It can be used as the waist to rely on when exercising waist curvature or leg extensions. It is not only moderately soft and hard, but also light and thin, and has the characteristics of ventilation and perspiration.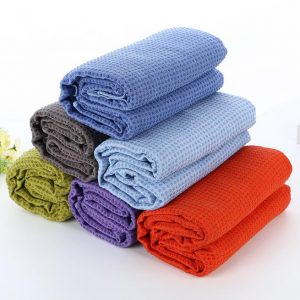 Use of yoga blanket
Yoga asanas require the body to gradually adapt. When the body is stiff or a certain part cannot be opened or certain asanas make you uncomfortable, using a yoga blanket to give a strong support to the asana can help to complete the asana more comfortably. Sometimes, discomfort and pain may be caused due to the space problem of body parts. At this time, yoga blankets can be used to increase the space between body parts and eliminate discomfort and pain.
If you are at home or in a fixed position, using a yoga blanket is more comfortable than a yoga mat (this comfort is a more stable feeling than a mat). And the yoga blanket is easy to clean. When practicing yoga, I often sweat a lot. Using a yoga blanket can well absorb the sweat discharged from the human body, and it will not cause a sticky feeling, but if it is used in the gym Yoga mats should be more convenient. The rubber yoga mat has strong resilience and good anti-slip performance. The purpose of using yoga mats when practicing yoga is to make yoga movements more precise and stable, reduce exercise buffering force, and protect the joints.