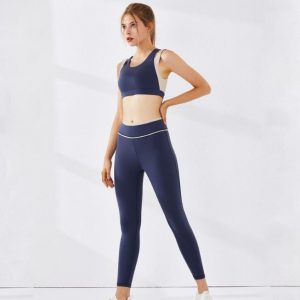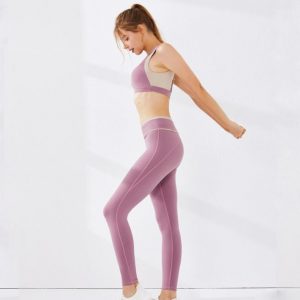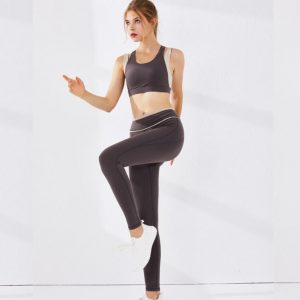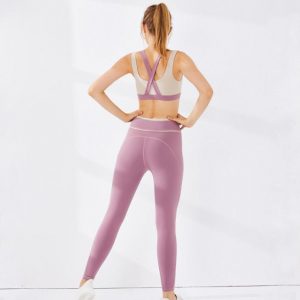 Product Parameters
Fabric: Nylon+Spandex
Color: deep sea blue, lotus root pink, light coffee color
Size: S, M, L
Applicable scenes: dancing, boxing, badminton, tennis and other sports
Saturated color contrast stitching, full of youthful vitality. Cross beautiful back design, stable lifting, reduce shoulder pressure and protect both shoulders. The trousers are of mid-high waist version, flexible to put on and take off, comfortable and fit, without a streak on the waist, shaping the body, tightening the buttocks curve, and more three-dimensional.
The benefits of yoga:
Increased vitality, the effect of yoga on the brain and glands.
Youthful appearance and mood: Yoga reduces facial wrinkles and produces a natural "lifting" effect. This is mainly due to handstand. Our usual upright position causes gravity to pull the muscles down. Over time, facial muscles gradually collapsed. By standing upside down for a few minutes a day, we are able to reverse the effect of gravity, making it a boost for our rejuvenation, so that facial muscles are not slackened, wrinkles are reduced, and skin is naturally flattened.
Yoga inverted position can often restore gray hair to its original color and delay the appearance of gray hair. This is because handstand increases the amount of blood flowing to the hair follicles in the scalp. This position increases the elasticity of the muscles and removes the pressure on the blood vessels and nerves of the muscles, allowing more blood to flow to the scalp muscles. In other words, the hair follicle gets more nutrition and produces richer healthy hair.
Live longer: Yoga affects all the conditions for longevity: the brain, glands, spine and internal organs.
Increase disease resistance: Yoga exercises a strong physique and increases immunity. This enhanced resistance can deal with a variety of serious illnesses from colds to cancers.
Improve vision and hearing: Normal vision and hearing mainly rely on the eyes and ears to get good blood circulation and nerve transmission. The nerves and blood vessels that supply the eyes and ears must pass through the neck. As you grow older, your neck loses its elasticity just like other parts of the spine. When nerves and blood vessels pass through the neck, they may encounter difficulties. Such changes hinder the supply of nerves and blood to the eyes and ears, thus affecting their operation. Yoga postures and yoga neck exercises can improve neck conditions, thereby enhancing vision and hearing.
Improvement of mental and emotional: As yoga rejuvenates the glandular nervous system including the brain, the mental and emotional will naturally show a positive state. It makes you more confident, more enthusiastic, and more optimistic. Everyday life will become more creative.