Yoga towel is a kind of yoga supplies that can effectively absorb sweat. We must know that when we are doing yoga exercises, the body will emit a lot of sweat, which drips on the yoga mat, causing uncomfortable sticking, so spread the yoga towel on the yoga mat The top can effectively absorb sweat, reduce the contact between the human body and the yoga mat, so that the yoga mat can be used for a long time, as clean as new. So today, the yoga mat manufacturer will share with you some tips on the use of yoga towels.
1. When using a yoga towel, the particle surface should be in contact with the yoga mat, because one side containing the particles can play a role in anti-slip, while the other side can absorb sweat.
2. When practicing some yoga movements with lying on your back or lying on your back, you can fold the yoga towel into a strip to make your head and neck more comfortable.
3. When practicing yoga, if your knees are sore, you can fold up the yoga towel and put it underneath.
4. After practicing yoga, the body sweats a lot after exercise, and it is easy to catch cold. At this time, you can cover your body with a yoga towel to keep warm and absorb sweat.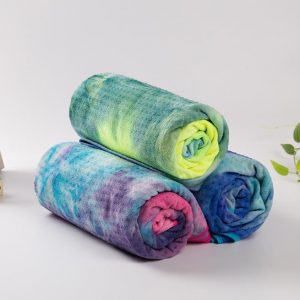 Spreading a yoga towel on the yoga mat can not only absorb sweat, but also prevent us from inhaling bacteria on the yoga mat. When doing yoga, certain facial movements close to the yoga mat and inhale bacteria or dust mites, and the back of the towel There are non-slip rubber particles, which can make the drape fixed on the mat without sliding, and effectively assist the stretching and balance of the yoga exercise. There are two types of yoga towels: resin and silicone. Compared with silicone drapes, the price of silicone drapes is higher than that of resin drapes. On the surface, the glue dots of the silicone drape are transparent, and it feels cool to the touch. The glue dots of the resin glue spreader are opaque. Compared with silica gel, the glue particles are slightly harder. But the fabrics of these two drapes are made of microfiber.