There are a lot of yoga supplies that need to be prepared when practicing yoga, such as yoga balls, yoga clothes, yoga mats, and yoga towels. The rubber particles on a good yoga drape are full and round. Strong grip and anti-slip performance. So what is the function of yoga towel? What are the benefits of practicing yoga yoga towel? The warp and weft of the towel fabric are all first-class superfine fibers with uniform dyeing and durability. The seaming thread adopts eight high-elastic polyester threads, which are beautiful, strong and durable. However, common manufacturers use six or even four seaming threads and counterfeit polyester. The edges are loose and easy to fall off and are not beautiful.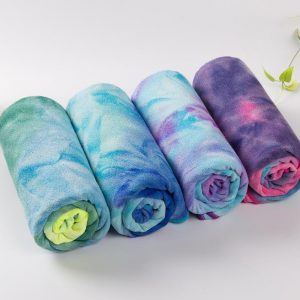 Silicone rubber is a highly active adsorption material, non-toxic, odorless, stable in chemical properties, except for strong alkalis, hydrofluoric acid reacts with any substance outside. It has many characteristics that other similar materials are difficult to replace: high adsorption performance and thermal stability Good performance, stable chemical properties, high mechanical strength, etc.
Use of yoga towels: Because the towels are light in quality and easy to hit, you can bring ordinary PVC yoga mats for outdoor yoga, mountain yoga, seaside yoga, hot yoga, etc. If it is not very convenient, you can bring a towel and spread it on the ground or On grass and beaches, lay the grains face down so that you can do yoga easily. Ensure personal hygiene. If you don't want to use a public yoga mat, you can bring a drape and spread it flat on top of the mat, which is hygienic and beautiful.