Rubber yoga mat materials are generally classified into TPE yoga mats, PVC yoga mats, and linen yoga mats. The way to distinguish the front and back of yoga mats of different materials is different, but usually the non-slip side faces upward.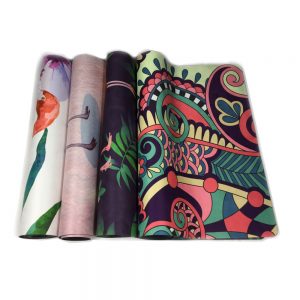 1. TPE yoga mat: Assuming it is a double-layer yoga mat with different colors on both sides, one side has a pattern and the other has ripples, then the side with the pattern should be the front side, which should face up; suppose it is a single-layer yoga mat with the same two sides, then There is no need to separate the back side, the effect on both sides is the same.
2. PVC yoga mat: pvc yoga mat is an average material, so it can be made double-sided, assuming that there are evenly spread anti-skid dots on both sides, and the texture on both sides is the same. Then this kind of mat is a double-sided yoga mat, so both sides can be used with confidence. If there is a pattern on one side and an anti-skid point on the other side (or a lubricating side while an anti-skid point), then the non-slip point is the front side.
3. Linen yoga mat: This kind of yoga mat is usually double-sided, linen and other materials (PVC, TPE, natural rubber) can be used together, usually double-sided yoga mats, and the double-sided functions and effects are different .
Generally speaking, the yoga mat should be facing upward with undulating stripes. Normally, the two sides of the yoga mat we bought are different. One side is smooth and smooth, the other side has undulations, and stripes. When using the yoga mat, the smooth side is facing down in the air, and the other The side with undulations and stripes facing upward is the side where our feet are standing. The side with the pattern has the effect of anti-slip, and also has the effect of assisting exercise.