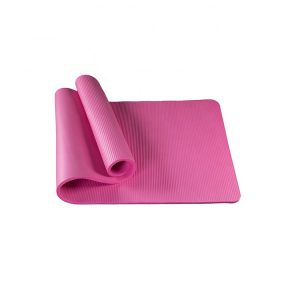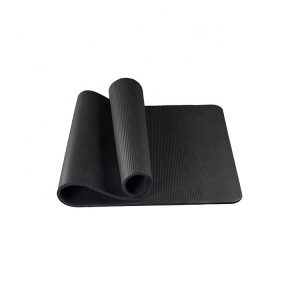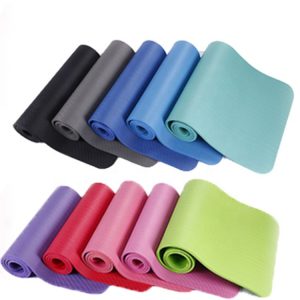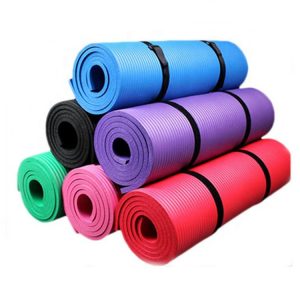 Product Parameters
Material: NBR
Size: 183x61cm
Thickness: 10mm
Net weight: 815g/pcs
It has good resilience, flatness, and slip resistance; excellent heat preservation performance, light weight, small size, easy to carry, beautiful, and can be used on both sides. Can be used for yoga, Pilates and other fitness exercises, can also be used for outdoor picnics, beach vacations and children crawling, etc.
Choice of yoga mats
Yoga mats are divided into several materials, common ones are linen, TPE and PVC materials.
These two kinds of cushions: Recyclable, to avoid environmental pollution. Mainly soft, lying on the ground, flat ground, strong grip. Each mat of TPE weighs about 1200 grams, which is about 300 grams lighter than PVC, so it is easy to carry. Waterproof and non-slip, even if you sweat, practice the anti-slip effect on it is still great!
However, the price of TPE cushions is very expensive, (this depends on everyone's needs) If you look at the price-performance ratio, PVC cushions are more economical and more affordable.
First and foremost, look at both ends of the mat (after the mat is rolled up) to see if there are even bubbles, the gas is bigger and the best is even! This shows that foaming hair is good.
Take a yoga mat first, don't open it, use your nose to smell the top of the mat. See if it has a pungent smell. Generally good yoga mats will not have too much taste. After being opened for two days, a small amount of taste can be released! If after a long time, the taste still does not disappear, then it is possible that the quality of this mat is not close. , Long-term use will cause harm to the body.
Feel it by hand to see if it is heavy or not. If it is heavy, it may not be PVC foaming technology, but is made of raw materials. (Generally, it is about 2.5 kg, and the yoga mat is 1.5 kg) PVC foaming technology has excellent elasticity, and it will return to its original state soon after being stepped on! However, other processes will not spring up after being stepped on for a long time. The large gap between this process is one of the biggest reasons for the price gap.
After opening, take a closer look to see if the workmanship is fine. The workmanship of domestically produced mats is very rough. Some are just one-sided foam, and the side that touches the ground is not anti-slip design! Other sellers sell foot mats as yoga mats, and everyone should keep their eyes open. )
Push the surface of the yoga mat lightly with the palm of your hand to have a dry feeling. If there is too much foaming agent on the surface of the yoga mat, there will be a slippery feeling. Then it will be easy to slip and fall when doing exercises on it. (However, like some good yoga mats in Taiwan, there is a layer of antibacterial layer on the beginning. If you sweat, you will find that it is slippery. But don't worry, after this layer gradually recedes, the anti-slip effect will be revealed! But domestically produced The mat will not work, it will keep sliding like this.)
Everyone try to choose 6mm thick. For example, when doing some knee-knee movements, there will be no pain.